Precision Fabrication
Precision Sheet Metal Fabrication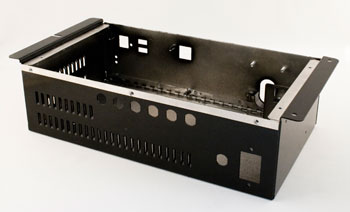 Mac-Ster, Inc.
has the ability to make almost any part with a variety of materials and processes. We use
the latest in sheet metal fabrication technologies
and assembly techniques. We use top of the line equipment that features Mazak lasers and Amada turret and brake presses. Our specialization is in panels, chassis, brackets, and subassemblies, but there is absolutely no project that we will not take a look at. Our capacity is limited only by your needs, and we would be more than happy to
create prototypes
in a time efficient manner. Contact us today to further discuss your requirements.
Precision Sheet Metal Fabrication

Equipment Listing
2 - 1500 Watt MAZAK Lasers
1 - AMADA Turret Punch Press
2 - AMADA Brake Presses
1 - Time Saver
MIG + TIG Welding/Processing
2 - Hardware Insertion Machines
TOX Joining System